Salmon Patties With Mushroom Sauce
ImPat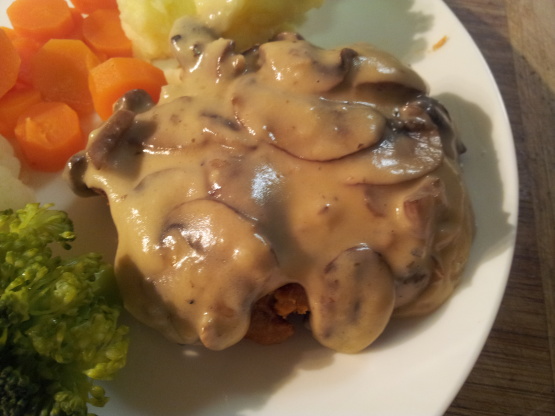 The mushroom sauce brings a more elegant presentation to the salmon patty....although I like them by themselves as well! Original recipe posted by Ruthie Grajczyk.

Top Review by ImPat
I used baby portabella mushrooms which I sliced for the sauce which was wonderful (will definitely be using that again) and did have to omit the celery for dietary reasons but I ended up with a very sloppy mix which was impossible to form into patties so added an extra 200 grams of red salmon and the mix was just right and formed 6 100 gram patties which worked out well for the 4 of us with the DH and DS getting 2 each and 1 was plenty for the DM and I. These are very delicate patties and I really enjoyed them as they were but the DH thought they could have done with some mashed potato in them and have been crumbed but it was these very aspects being missing from the recipe which attracted me to it and wanting the make it. Thank you for a lovely dinner breezermom, made for Went to Market tag game.
Salmon Patties:
Saute green onions and celery in 1 tbsp butter in a skillet over medium-high heat, stirring constantly, until tender. Set aside.
Remove and discard skin and bones from salmon, if desired. (I usually remove the skin, but crush up the bones to retain the calcium). Combine salmon, reserved green onion mixture, egg, and next 5 ingredients. Shape mixture into 4 patties. (Mixture will be very sticky). Dredge in flour. Cook in 1/4 cup melted butter in a skillet over medium heat 5 minutes on each side or until browned. Serve patties with the warm mushroom sauce.
Mushroom Sauce:
Saute mushrooms in butter in a large saucepan over medium-high heat, stirring constantly, until almost tender. Add the minced garlic, and cook 1 minute longer. Remove mushrooms and garlic from the saucepan, reserving drippings in the pan. Reduce the heat to low.
Add 1 tbsp flour to the drippings, stirring until smooth. Cook 1 minute, stirring constantly. Gradually add half-and-half, wine, soy sauce, and lemon-pepper seasoning; cook over medium heat, stirring constantly, until thickened and bubbly. Return mushrooms to pany; cook until heated.