Sara 76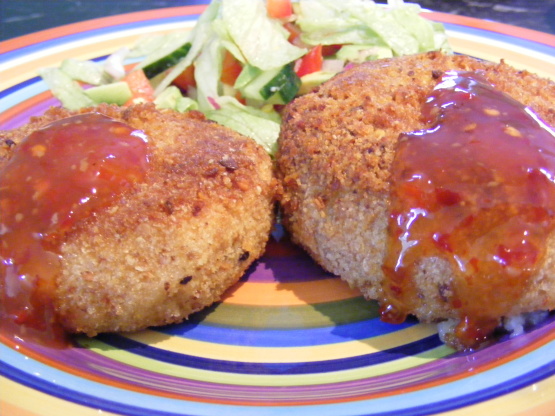 My Mum used to cook these all the time, they are simple, delicious, kid friendly, and cheap to make!

Top Review by ImPat
A really great basic salmon pattie recipe - I could not use the onion due to intolerance reasons but otherwise made as directed just upping the amount and using a 410 gram can of pink slamon and a 210 gram can of red salmon with a heap of left over mashed potato (dry mix not smooth). The DH reconned the mix needed an egg in it but I had to disagree as the patties formed and coioked really well at about 5 to 6 minutes per side (I got 7 patties at 150 grams each - yes I weighed them on the scales for uniformity) and they were crispy on the outside and warmed inside (I did refrigerate for about 1 hour before cooking to set the burgers). Thank you Sara 76 for great recipe and to Averybird for her recommendation, made for I Recommend Tag Game.
Lightly sautee onions in melted butter.
Mix potato, onion, and salmon together.
Form into patties, roll each pattie in egg, then roll in breadcrumbs.
Pan fry in olive oul, until golden brown on each side.