ImPat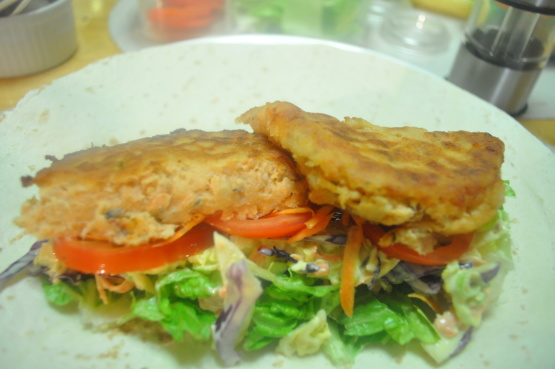 fish cakes are atlantic provincial fare. These are light and delectable. they make a nice economical supper.

Top Review by ImPat
These patties need a delicate hand, I doubled the mix and got 7 large patties which 4 of were devoured between 3 of us with salad in tortilla wraps. The salmon patties themselves were the best basic salmom pattie I had had and I doubled the reciope though the can of salmon was a little shy of the full quantity and I used some left over mashed potatoe (deliberately made for this recipe) but would cut back on the egg and maybe chill the mix before making the patties to firm it up and also (a definate) after forming to chill and I used a flour coat which helped to give a slightly crisp coat to the patties. The end product a healthy dinner with heaps of salad veg in a tortilla, thanks you conniecooks made for Bargain Basements,
Thoroughly combine ingredients except butter.
Shape into patties (use a little flour to hold together if necessary).
Melt butter in frying pan.
Fry patties tol golden on both sides.
Serve with chili sauce and salad.