Boomette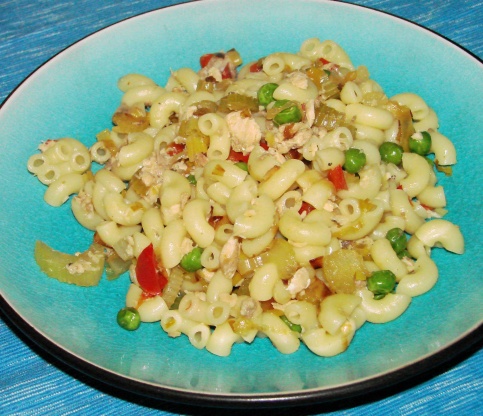 A tasty midweek dish that's really good for you. Especially good in springtime. You can easily substitute any vegetables you like for the ones listed, but peas and leeks are traditional in a primavera. Seasoning is simple and mild in this recipe, but feel free to "jazz it up" if your tastes run towards spicy flavors. Serves six generously.
For me and DH this recipe needed a sauce, something to wet the pasta and veggies. But my son liked didn't want sauce added to it. He likes his pasta without sauce. That was a great way for him to eat his veggies. Thanks bakedapple :) Made for Bargain Basement tag game
In a large pot, boil your pasta until al Dente, drain but do not rinse. Reserve 1/2 cup of pasta water.
In a medium pan, saute red pepper flakes and leek in olive oil and garlic, 5 minutes.
Add celery, red pepper, and garlic, saute just until celery is crisp-tender.
Remove from heat and set aside.
In the big pasta pot, heat frozen peas in the reserved pasta water on low heat just until warm.
Add flaked salmon and sauteed vegetables. Stir gently to combine.
Season with salt & pepper to taste.
Gently toss in cooked pasta until well-coated. The pasta should absorb the flavors of the other ingredients.
Sprinkle parmesan over each serving.
Adjust seasoning to taste.