Kathy228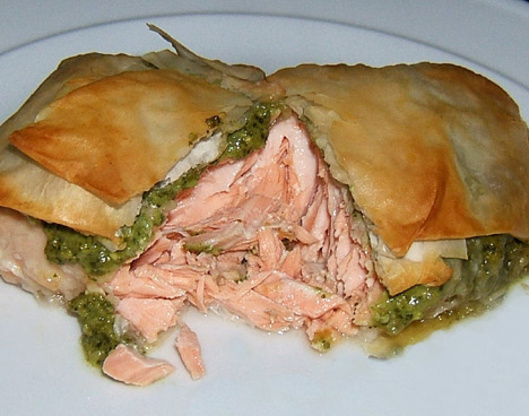 As usual, I'm not sure where this recipe comes from, but we make it for small dinner parties. The parcels look so elegant, but the recipe takes no time at all! I make my own pesto with basil and mint for this, but you could use a jar pesto. Fresh is so much nicer tho!
Season the fish with salt.
Take two phyllo sheets and fold in half. Lay a piece of salmon on the phyllo, take care to tuck any tail piece under the salmon.
Top each piece of salmon with at tablespoon of the pesto.
Draw the phyllo up around the salmon and make a "knot" by twisting the phyllo so it stays in place.
With scissors cut off any excess phyllo from the knot.
Place each parcel on a non-stick cookie sheet. Refrigerate (covered with plastic wrap) until ready to cook.
Heat your oven to 400°F Drizzle or spray the olive oil over each parcel.
Cook in the middle of the oven for 15 minutes or until each parcel is golden brown.