Salmon & Orange Pinwheels
Ninna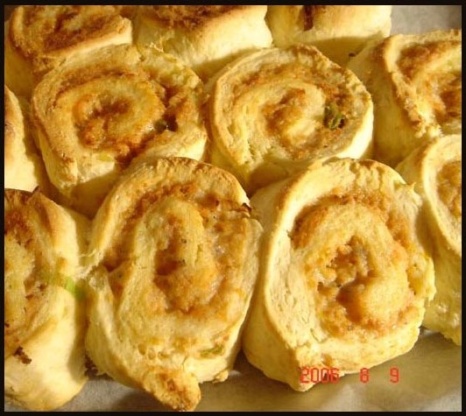 This came from a magazine about 40yrs ago and it is just so tasty. The orange flavour with the salmon is delicious. It has been quite a while since I have made these and I think it made about a dozen. I also tend to roll pastry a little thinner, so it ends up longer.

I made this with parmesian. It was terrible, but I feel like the problem was the combination of parmesian and orange. It may be better with another cheese.
Drain salmon and flake; add cheese, shallots, zest, salt, pepper and mix together.
PASTRY; Sift together flour & salt, rub in butter and add enough liquid to form a soft dough.
Roll to a 12 1/2" x 6" rectangle, spread with salmon mixture.
Roll up long side and cut into 1 1/2" slices and arrange cut side up in 2 greased tins.
Brush with melted butter and bake at 200degC (400degF) for 20 minutes - cook straight after preparation.