Salmon Mousse With Capers
Rita1652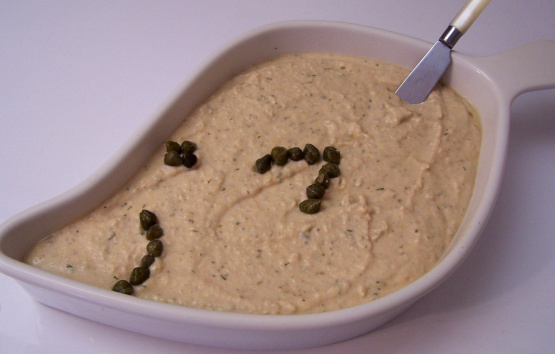 Splendid recipe because extremely refined though really easy. Other advantage : you can cook it one day ahead.

This one gets 2 stars for the canned Salmon version. Since I didn't have any fresh salmon on hand I tried this using canned salmon. My husband, who is NOT at all picky, will try anything and never refused to eat anything I've made for him - spit this out. It fared no better at the luncheon I took it to. Many of the 50+ women who attended put it on their plates, and almost no one ate it. I thought it was sort of strong and fishy myself, and I adore Salmon. So I recommend NOT using canned Salmon.
Cook the potato in salted water; gently fry the salmon fillets in a pan.
Take skin and bones off the salmon fillets; crumble them roughly.
Peel the potato, crumble it roughly.
In an processor, put the salmon, potato, cream, lemon juice, mustard, the 3 teaspoons of capers, salt and pepper.
Mix the whole for at least 2 minutes. Taste the mixture and adjust seasoning.
Pour in a mould and leave in the fridge for at least 3 hours. Ideally make it half a day before serving.
Serve on a bed of lettuce, making "balls" of mousse with a spoon. Sprinkle a few capers on it (left spoonful).
TRICK : you can replace salmon fillets by canned salmon which still will give you a very good entrée with the most simple recipe (just mix everything) -- .