ImPat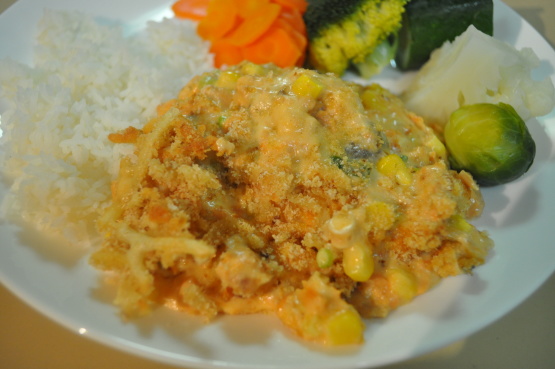 A delicious and simple meal. Served with plain rice, my kids love it. Can also substitute canned tuna (or chicken) for the salmon. As the first reviewer has pointed out, it works just as well if you substitute more milk for the cream. If I do that I generally add a bit more cheese though.

Top Review by ImPat
Overall yes a very quick and easy dish my main problem was I cannot see this serving 6-8 as is, I used a 415 gram can of red salmon drained and kept with the other quantities though due to dietary reasons had to omit the celery and sub spring onion/scallion for the onion and used extra cheese, I did like the the addition of the cream but the corn overall most of us would give a miss. Preperation time was generous but then I didn't do celery and the spring onion may have been quicker than regular but is definately a good bench mark to work with. Served with rice and steamed veg., thank you Bax, made for ZAAR Che Alphabet Soup.
Melt butter in medium saucepan, add onion and celery.
Stir constantly over medium heat for about 3 minutes or until onion is soft.
Add flour, stirring constantly over medium heat for 1 minute or until mixture is bubbly.
Gradually stir in combined milk and cream- stir constantly over high heat until mixture boils and thickens.
Remove from heat, add cheese, corn and salmon - stir gently until cheese is melted.
Spoon mixture into ovenproof dish, sprinkle with combined breadcrumbs and extra cheese.
Bake in moderate oven for about 15 minutes or until mornay is heated through and bread crumbs have browned. Leaving the lid off for all or part of the time will help them brown better.
Serve on plain rice.