Salmon Martini for 2 (Salad in a Glass)
Boomette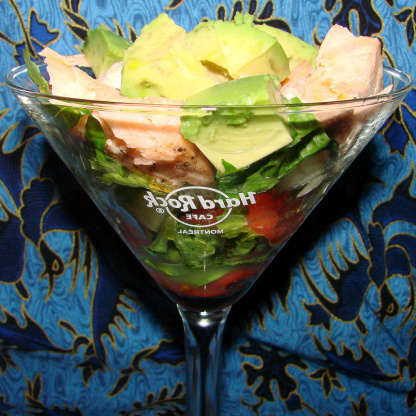 Healthy and lighter fare that both looks great and is tasty as well.
This is quite simple and special. I cooked the salmon yesterday. I used half a roma tomato, romaine lettuce. I think it would be better to mix all the ingredients and then put in the martini glasses. Or finish with the salmon on top. Thanks Annacia. Made for Holiday tag.
Preheat oven to 425 degrees F.
Lightly coat shallow baking pan with cooking spray.
Sprinkle salmon with salt and pepper.
Bake 10 to 12 minutes or until fish flakes when tested with fork.
Remove from oven, cool in pan 10 minutes. Remove skin from salmon; discard.
Break salmon in large chunks.
Using a metal spatula, transfer salmon to plate.
Chill 30 minutes.
In martini glasses or small bowls arrange salmon, avocado, cucumber, tomatoes, and frisee.
Combine lemon juice and olive oil; drizzle over salmon mixture.
Season to taste with pepper.
Cover; chill until serving time.