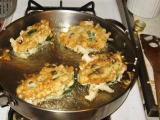 I saw Ina Garten, "The Barefoot Contessa", put this amazingly simple but fantastic salmon marinade together on her TV show. Wake your fresh salmon steaks up with this one!
Directions
Blend all ingredients and marinate fresh salmon steaks for at least 4 hours.
Broil the marinated salmon steaks for 7-8 minutes per side and serve.
Most Helpful
Im a huge Ina fan, and usually love all of her recipes, but this one I found to just taste like soya sauce (salty) and garlic. Missing a note.

This is incredible! Much better than I could have anticipated. I made a stir fry with this recipe exclusively as my sauce, and it was very good.

I marinated it for about 20 minutes (not as long as i should have, I know) and fried my veggies and rice while i waited. Then I set them aside, fried the salmon until it was nearly done, then peeled the skin off and peeled the salmon into bits. Then I made a second batch of this marinade, and fried the veggies and salmon together in it until the salmon was done. It may not taste particularly Asian, but it makes a wonderful marinade. I wish I knew about this recipe sooner!

Fantastic and easy to prepare. I grilled the salmon after marinating for about 4 hours. It was delightful!!