Rita1652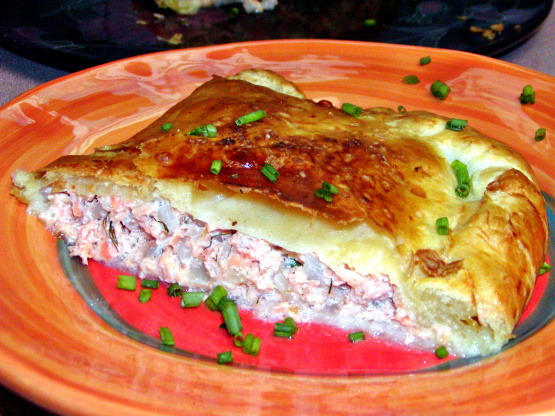 A tasty salmon pie which I've adapted from a recipe I found on a website with Jewish recipes. Posted for the 2005 Zaar World Tour.

Enjoyed But I did make a few changes. I do cook salmon and puff pastry often. I used 3/4 pound salmon. I just couldn`t cook it for an hour knowing I was cooking it again in the puff pastry. So I pre cooked it stoved top by simmering it in the wine till just before done 10 minutes. Then I brushed the pastry with an egg wash and sprinkled it with seasoned salt. BAKED in a 450 degree oven for 15 minutes. So I cut the cooking time down by over an hour and a half! And I found this to be soooo good the way I baked it! The dill came through so wonderfully fresh and the sour cream gave it nice a creamyness and added richness. Good Eats!
Preheat oven to 350 degrees.
Place the salmon in large baking pan, pour the white wine over the salmon, cover and bake for 1 hour.
Warm the oil in a small non-stick pan and, when it is hot, sauté the onion and garlic over a medium-high heat, stirring, until it has begun to soften. Set aside until needed.
Remove the salmon from the pan and allow it to cool.
Break the salmon into small pieces and combine it with the sour cream, onion, garlic and dill, and mix until all the ingredients are well-combined.
Lay one sheet of puff pastry on a greased baking sheet, and spread the salmon mixture over the pastry leaving a 1/2 inch border along all sides.
Top with the remaining puff pastry sheet, and crimp and seal the edges.
Brush the top of the pie with egg wash (1 egg white mixed with 1 teaspoon water) and bake it for approximately 1 hour or until the top has begun to lightly brown.
Notes: Because salmon obviously vary in size, use your culinary judgement when adding the sour cream. Add a little at a time. You don't want the filling to be too liquidy but you do want it moist. If you have extra puff pastry, you can make decorative shapes on the top of the pie.