Salmon in Bengali Mustard Sauce
Prep 10 mins
Cook 15 mins
Jaffrey, Madhur. Saveur Aug.-Sept. 2011
Directions
Rub fish evenly with half of the salt, turmeric, and cayenne; set aside.
In a bowl, stir remaining salt, turmeric, and cayenne with powder and 1/2 cup water; set paste aside.
Heat oil in 12" skillet over medium-high heat; add mustard seeds; cook for 1-2 minutes.
Add cumin and fennel, cook for30 seconds; add paste and chiles.
Add fish, and cook,basting, until done, 10--12 minutes.
Reviews
Most Helpful
Incredibly delicious salmon and very flavorful. Easy to make and just the right amount of spice. I would suggest using your vent hood fan as these spices are very pungent and do take on a life of their own. I would love to find a way to grill the salmon outdoors vs. cooking it indoors. I will definitely make it again. Made for the Best of the 2012 tag.

What a wonderful way to prepare salmon! This is super easy to make and yet delivers a complexity of flavor! I did find that, after I added the salmon, the sauce was evaporating quickly. I had to keep adding water to the pan, and eventually covered it to retain some moisture. The end result was perfect, though, and we will definitely be making this again. Thanks for sharing!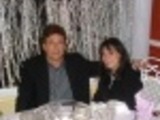 Oh YES!!!!!! Loved this. It was so simple to put together. The salt amount can be cut back. I did use coconut oil for the olive oil. I was surprised to see Serrano chili used here. I expected more of a thin long green chili. But it worked. Thanks. Made for Lively Lemon Lovelies of ZWT #8.
Namaste