Salmon Fillets Bathed in Garlic
Starrynews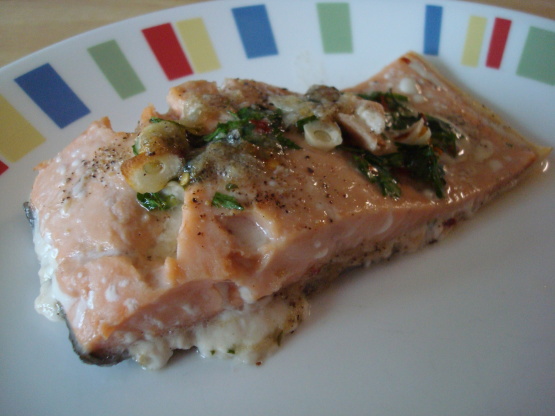 This is a recipe from the Diabetic Cookbook. It is easy and can be so elegant depending on the presentation.

Very tasty recipe. And it is so easy to prepare, yet it tastes as though a lot more work went into it. I needed almost twice the amount of baking time than the specified 8-10 minutes though, which I credit my quirky oven for that minor issue. If you like salmon, you really must try this recipe. Make for ZWT7, Mischief Makers.
Preheat oven to 450°F.
Rinse fish and pat dry with paper towels.
Sprinkle both sides of fillet with salt and black pepper; set aside.
Combine the parsley, broth, wine, oil, garlic and red pepper.
Place the fish, flat sides down, in a single layer in a 2-quart rectangular baking dish.
Pour parsley mixture over fish.
Bake in preheated oven for 8 to 12 minutes or just until fish flakes easily when tested with a fork.