Salmon-Egg Salad Stuffed Pitas
PaulaG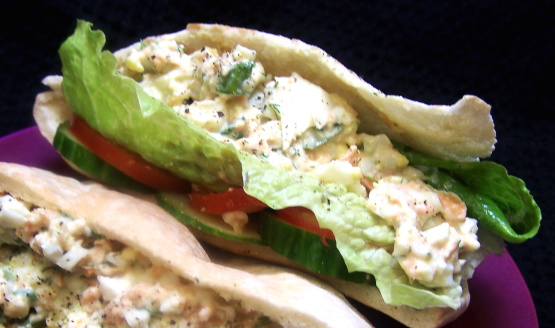 Salmon is high in protein and Omega-3 fatty acids content and to its overall low fat levels making it a healthier alternative as a sandwich filling. These are delicious alone or served with fresh vegetable sticks and dip.
I love egg salad and I really like salmon so I knew I would like this combination. Only change I made was to use lowfat mayo and no fresh dill at this time of the year so had to use my dried stash. Can't wait to make this again in the summer when I think it would be great on a hot, summer night.
In a small bowl, mix together the eggs, mayonnaise, green onions, dill and lemon zest.
Cut pita rounds in half and divide the salmon-egg mixture evenly between the 4 pockets.
Stuff with lettuce leaves, tomatoes and cucumber.
Top with some fresh ground black pepper and enjoy!