This dip is incredibly easy to make and I often take it to BBQ's and other parties. It's always a big hit.
Directions
Mix all ingredients together until you get a smooth consistency, then take off your clothes and stand on your head while chanting "salmon, salmon, salmon, Oi, Oi, Oi".
This will ensure that your dip is the right consistency.
Reviews
Most Helpful
I added some finely chopped green onions and a dash of tabasco. It was wonderful. My husband especially liked the chanting.....
I used 1 extra can of salmon(boneless & skinless)(much easier), added 3 tbsp shredded onions at 1/4 tsp salt and made this into a ball or mold..very tasty. Never any leftovers.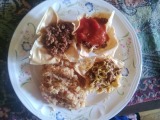 Made this for a picnic...I had to add some chopped green onions and threw in a little bit of Emeril's Essence...Everyone said it was good...I didn't get to taste it...The police showed up before I could get my clothes back on...
Holiday Central >