Bergy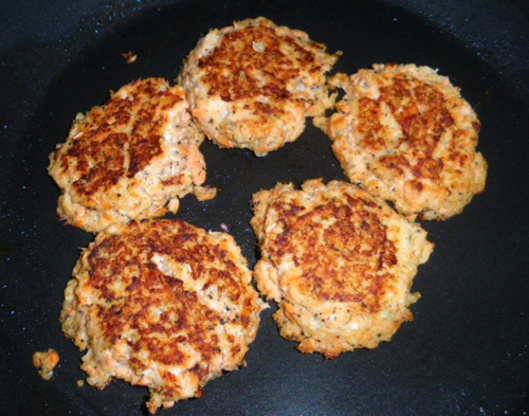 This is a recipe I have modified to my taste that I got from a Native American Cookbook. The cakes can be made in either a muffin tin or you can fry them in a little olive oil or oil of your choice. And you can use your favorite seasoning if you don't like dill. You can also use the milk of your choice. You may also use whole eggs if you prefer. It's also a great way to use leftover fresh salmon.

Top Review by Bergy
I had a problem with this recipe - I cut it in half (I used a 213 gram tin of salmon = 7.5 ounces) and the result was a very soupy texture so I added an additional 1/4 cup of Panko crumbs. Perhaps if I baked them in a muffin tin they would have firmed up fine but I pan fried them using a spray of "No Oil". Even after adding the additional panko I spoon dropped them in the pan. I added pepper. The end result was very tasty.
Drain water from the Salmon and put Salmon in a medium bowl.
Add dill and stir to break up the Salmon.
Add milk, cornmeal and egg whites.
Stir to blend everything in well.
If baking,.
Grease 6 standard muffin tins, no stick cooking spray works well.
Divide mixture into the 6 tins.
Put in 350 f oven for 30 minutes.
If frying,.
form into 5 or 6 patties, not too thin.
place in pre-heated skillet in which you have put 2 or 3 tablespoons cooking oil.
Fry for about 4 minutes, turn and fry 4 more minutes.