Salmon Burgers With Lemon-Sour Cream Sauce
Annacia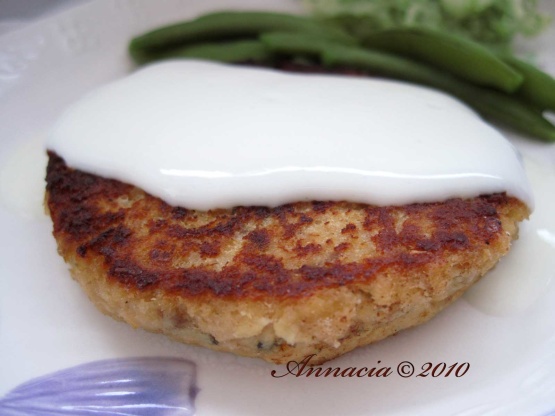 This is a fast, delicious, and healthy alternative to a traditional burger. This is a great way to get kids to eat fish (although they might prefer it with ketchup & a bun instead). This recipe is from Linda Stradley, cookbook author of "What's Cooking America".
To prepare the Lemon-Sour Cream Sauce: In a medium bowl, combine sour cream, lemon zest, lemon juice, and sugar; mix until well blended.
In a large bowl, combine salmon, egg, bread crumbs, onion, salt, and pepper; shape into six equal-sized patties.
In a large frying pan over medium heat, melt butter. Add salmon patties and brown on both sides. Remove from heat, transfer onto a serving platter, and serve with Lemon-Sour Cream Sauce and lemon wedges.