Salmon Burgers With Herbed Sherry Mayonnaise
Catnip46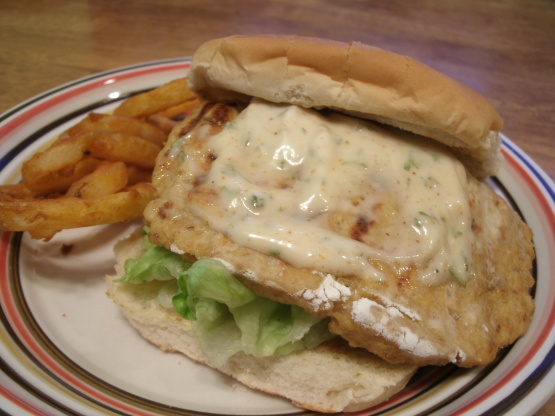 This is a Kat Cora recipe from iVillage. Posted to try later.

In the Herbed Sherry Mayo I used the white vinegar and for my herbs I used celery salt, dried parsley, and some red pepper flakes for a little nip. I really love the sauce. I didn't care for the salmon that much I think it would have been better using can salmon. Made for Zaar Chef Alphabet soup
Herbed Sherry Mayo

2

cups mayonnaise

3

tablespoons tarragon vinegar, White Vinegar or 3 tablespoons rice vinegar

3

tablespoons dry sherry

2

teaspoons sugar

2

teaspoons herbs, fresh chopped (anything on hand basil, parsley, chives, etc)

Salmon

12

ounces salmon
1 1⁄2 cups breadcrumbs

1

egg

1

teaspoon Tabasco sauce

1

scallion, finely chopped

1

basil, spring finely chopped

1

teaspoon kosher salt
1⁄4 cup flour, for dusting

Burger

1⁄2 cup olive oil

4

hamburger buns

4

tomatoes, slices

4

red onions, slices
For the mayo: Whisk together all the ingredients for Herbed Sherry Mayo in a large bowl. (The mayo will keep in your fridge for up to 1 week, tightly covered.).
For the burgers: Cut the salmon fillet into 3 or 4 pieces and pulse in a food processor about 10 times, until coarsely ground. Don't overmix; you don't want the fish to turn into paste. Add the onion, bread crumbs, egg, and Tabasco and pulse a few times to mix. Transfer to a large bowl. Mix in the scalion, basil, salt, and 1/4 teaspoon pepper.
Shape the mixture into 4 patties, sprinkling on a few drops of water if the mixture is too dry to hold together. Pour the flour onto a plate and add a few grinds of black pepper. Lightly coat the salmon patties with flour on each side and set them on a plate.
Pour the oil into a large skillet (it should be 1/4-inch deep) and heat over medium-high heat until the oil shimmers but is not yet smoking. Gently place the salmon patties in the hot oil and cook until golden brown, about 3 minutes on each side. Line a plate with paper towels. When the burgers are done, transfer them to the paper-lined plate.
To assemble the burgers: Place each salmon burger on the bottom of a bun, spoon on the mayo, and top with the lettuce, tomato, and onion. Cover with the top half of the roll and serve.