Salmon Burgers With Dill Tartar Sauce
Thorsten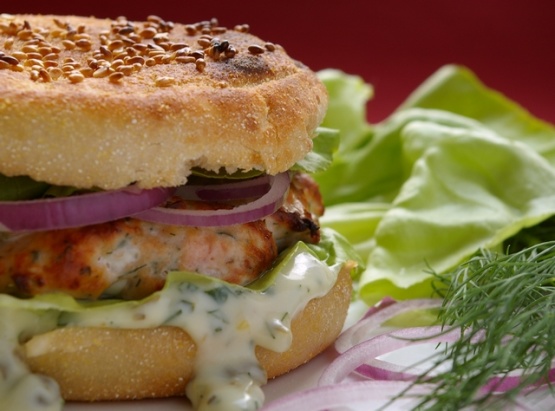 My DH loves salmon!! I have been meaning to make this burger for him, but it has been lost for a while. I am placing it here for safe keeping and as a reminder for me!! These burgers are easier to handle if they are chilled for 1 hour before grilling....time included in cooking time. From BonAppetit July 2001.

Top Review by Ms B.
Perhaps it was the tartar sauce that I used (Recipe #19229)...but we liked it very well on its own...however, we just couldn't seem get our taste buds around these burgers. They seemed dry and tasteless...maybe we overcooked them. I don't know. I am used to salmon patties with more ingredients, and we did add some salt to this to boost the flavor a bit, but it just wasn't a dinner that we will repeat.
Place salmon fillets, 3 Tbs tartar sauce, 1 Tbs dill, salt and pepper in food processor.
Blend using "pulse" until coarsely ground.
Form into 2 (1/2-inch) thick patties.
Heat grill to medium high heat.
Whisk 1/2 cup tartar sauce, 1 Tbs dill, lemon zest in medium bowl to blend.
Grill rolls until toasted and transfer to 2 plates and spread bottom halves generously with sauce.
Grill patties until fish is cooked through, about 2 min per side.
Place burgers atop sauce on rolls, top with onion slices, lettuce and the top half of the rolls.