BecR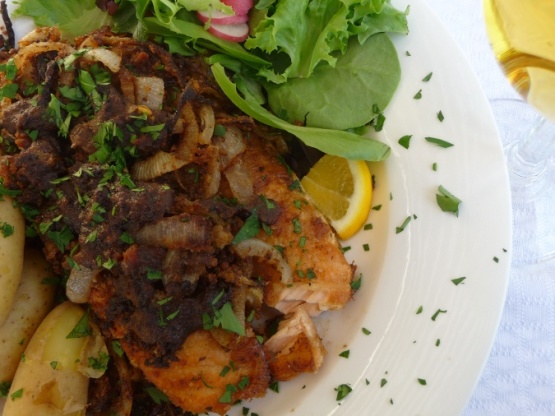 A traditional Swiss recipe submitted for ZWT7. From a recipe handout from the GLOBUS chain of department stores in Switzerland.

This is absolutely the best you can get for such a simple easy recipe. Restaurant quality! I made as written with the exception of using white wine to deglaze the pan and cut it down to one serving. Thanks Elmotoo for posting such a wonderful recipe. Made for ZWT7 Golden Gourmets.
4

pieces filleted salmon
1⁄2 lemon
salt & pepper

2

tablespoons flour

2

onions, cut into thin rings

4

tablespoons butter

3

tablespoons oil
1⁄2 cup fish stock
Season the fillets with salt and pepper, squeeze the lemon juice over them, and leave to marinate for a short time.
Dredge the onion rings in the flour. Shake off the excess.
Dredge the fish in the remaining flour, then brown quickly in the combined butter and oil for 5-6 minutes on each side. Brown the onion rings as well (after the fish have been removed from the pan).
Arrange the fish on a warm plate and cover with the onion rings. Deglaze the pan with the fish stock and serve as a sauce over the salmon.
Serve with boiled potatoes.