Salmon and Wild Rice Chowder
kolibri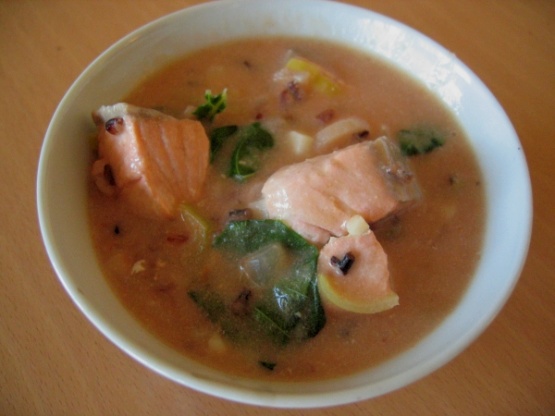 A wonderful savory fish chowder, perfect to start off an evening of fine dining or as a hearty dinner with good, crusty bread.

I wasn't sure if this would come together, but it did. I skipped the celery (I've got no use for the stuff) and used some Kitchen Essentials fish stock. The result was subtle and tasty, a good combination of tastes and textures. Next time I think I'll use a bit more salmon!
In a stockpot over medium heat, melt the butter; add the shallot, leek, garlic, celery, and thyme and sauté until tender, about 5 to 7 minutes.
Stir in the flour and cook slowly, stirring, for 3 to 4 minutes.
Whisk in the clam juice or fish stock and cook until thickened.
Add the reconstituted tomato, cooked wild rice, salmon, cream, and basil and simmer for 5 to 10 minutes or until the salmon is cooked through.
Season to taste with Tabasco, salt, and white pepper.
Serve with good, crusty bread.
Makes 4 to 6 servings.
Note: if you're not familiar with those dining, the fish stock is safest- many people are allergic to shellfish; unsalted chicken broth can also be used; other types of fish may also be substituted for the salmon.