3 Reviews
Made this for my parents who are careful low-fat eaters. It was great! I used angel hair pasta and reserved some of the pasta water to make sure the final wasn't too dry. Thanks for posting.
I made this for the family tonight...it's delicious! I also cut the oil in half...next time I just may cut it even more...the salmon was so moist and tender...and the sauce on the noodles was making us say...YUM!...this is a keeper...next time I will get a photo of this excellent dish...Thanks for posting! :)

Delicious salmon and pasta. I especially loved the method for cooking salmon. The fish came out very flavorful and moist. Normally, I serve rice with fish but this pasta was a great addition. The pasta was delicious mixed in with the sauce. I used about 1/2 the amount of oil and about 3/4 pounds of pasta and it seemed to work out well. My daughter is not a huge fan of lemon, so she didn't care for the pasta but still loved the salmon. Thanks for posting! Made for Spring Pick A Chef.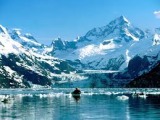 Salmon and Lemon Pasta