Salmon and Chive Crustless Quiche
Peter J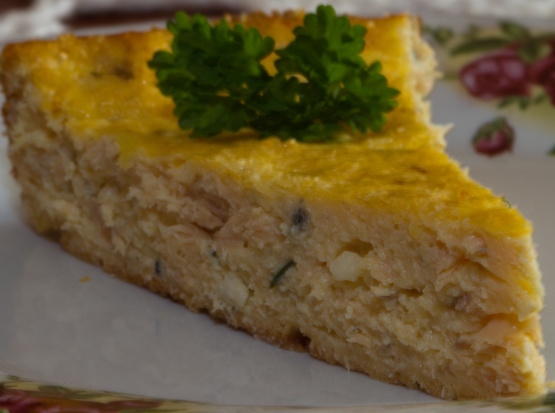 Use tuna in stead of salmon if preferred. Recipes is best made close to serving time.

Wow! This came together beautifully in both flavour and texture. I used a can of chunky salmon that included bones so mashed it a little and served at room and found the balance just perfect. The only change I made was I only had about 150ml of sour cream left so combined it with 150ml of cottage cheese. I'd imagine things like low fat Greek yoghurt would also work well with this for anyone wanting to drop the calories / fat a little.
Brush butter over base and sides of a 24cm diameter flan dish.
Sprinkle breadcrumbs evenly over base and sides.
Place sour cream in a large bowl; gradually whisk in eggs.
Stir in salmon, chives cheese and flour.
Pour mixture into flan dish.
Bake at 180°C for 30 minutes or until just set.
Garnish with parsley and serve with salad and crusty bread, if desired.