ImPat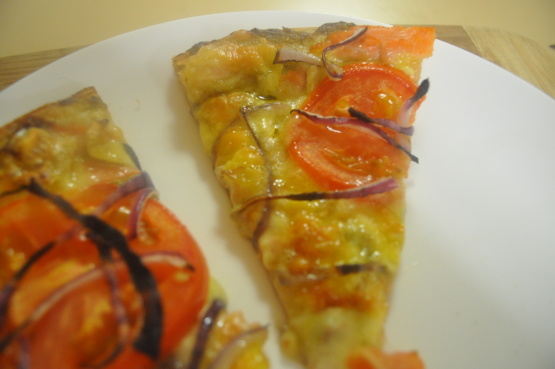 I found this recipe in a NZ magazine, so made it (with adjustments to suit us) whilst we were on holiday.

Top Review by ImPat
I cannot understand why this has not been snapped up before - forget the yukky pizza chains and make your own gourmet pizza, with a prepared pizza and these ingredients you have something that is super good. I used a 12 inch prepared pizza base and use a basil based pesto sauce with pinenuts added which added a slight crunch in the occasional bite, about 75 grams sliced smoked salmon (did have 100g but had to taste test) and the wedge of brie was 125g but had to taste test so about 100g went on (sliced the wedge and then cubed the slices) and with 1 medium tomato and about 1/3 of a large red onion had a pizza to die for. Sorry did not serve with the sour cream but will consider for the next time, served with some toasted garlic bread. We had 3 very happy vegemites thank you Jan, made for Make My Recipe - Spring Edition.
Pre-heat your oven to 200c degrees.
Spread the pizza bases with half of the pesto on each.
Arrange the remaining ingredients in the order given over each of the pizzas using half on each.
Place on a baking sheet in pre-heated oven for about 15 minutes until cheese is melted and golden brown and base is crisp.
Cut into wedges and offer sour cream on the side.