Sageca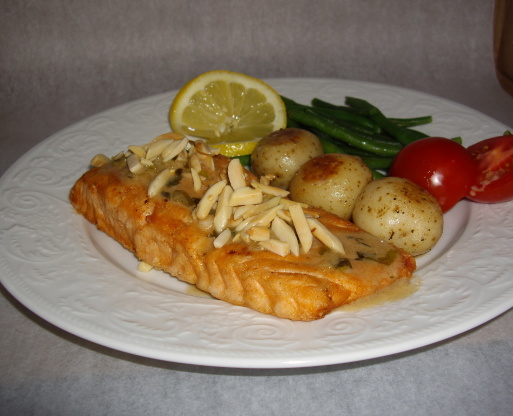 A lovely way to enjoy your salmon. I used non-fat canned milk to replace the cream. Good and good for you.

A classic, with slightly tart sauce and cruncy almonds. I used small 4-oz fillets, which were a little small for the amount of sauce. I only needed about half the quantity of almonds called for here. Instead of breading the fish, I pan seared them, then added 2 tbl of flour after the deglacing, to make the sauce. This probably lost a little flavor from not browning the flour, but made a nice visual with the pink meat, white sauce, and green herbs.
Combine flour, salt and pepper.
Sprinkle salmon filet on each side with seasonned flour.
In skillet combine oil and butter; heat until hot and bubbly.
Add salmon and cook until golden on both side.
Carefully remove filets and place in a ovenproof pan.
Cook in a 350* oven for 10-15 minutes until fish flakes easily with a fork.
Place on serving plates.
While fish is finishing in the oven make sauce.
Deglaze pan by slowly stirring in lemon juice and vinegar.
Add parsley, green onions and chicken broth; bring to a boil;
Let sit and whisk in cream just before serving.
Spoon sauce on salmon filets.
Sprinkle with toasted almonds.