Dorel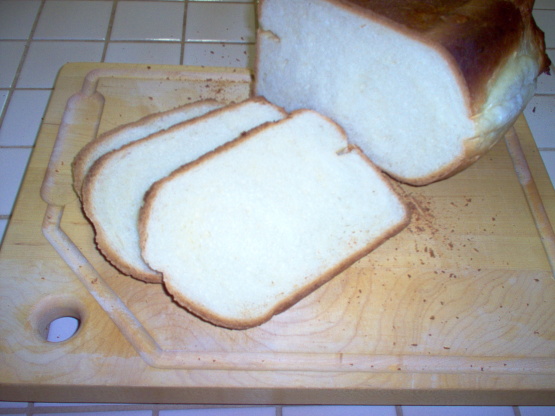 I got this recipe with the set of instructions when I got my bread machine. My ABM makes it in less than two hours. I usually take the dough out after the kneading has been done and continue with the baking process in a normal oven. This is very rich. Hubby loves it.

Top Review by lolsuz
Easy and delicious; and a great first loaf for beginners, too. I hadn't made this one in years and picked yours out of the handful of Sally Lunns posted. I also measure my flour by weight but I use American measures... I typically use a pound of flour for a loaf of bread but found I had to add a half a cup of flour or so to get my doughball to the right texture. Thanks for posting... now I'm off to eat another slice!
3⁄4 cup milk (full cream)

2

eggs

2

teaspoons salt
1⁄3 cup sugar
3 1⁄2 cups bread flour (or 465gms, I normally weigh my flour)

2

teaspoons yeast (instant)
Mix as per manufacturer's instructions.
If you want to finish the baking process in a normal oven, take dough out of machine after the kneading has been done and before the proofing starts.
Put it into a greased bowl and leave it until doubled in size.
Take dough out of bowl. Punch it down. Roll dough into a 1-inch high oval, roll it up from the shorter side and pinch the seams together as you roll the dough up.
Put dough into a 5 x 8 (or 9) inch loaf tin.
When it has doubled in size, pop it into the pre-heated oven at 350F for about 45 minutes.
When done, remove from tin and cool on a rack. A hollow sound when you tap the bottom indicates its doneness.
Enjoy it on its own (I like it lightly toasted) or with Jam or PB.