Salisbury Steak with Wine Sauce
Barb G.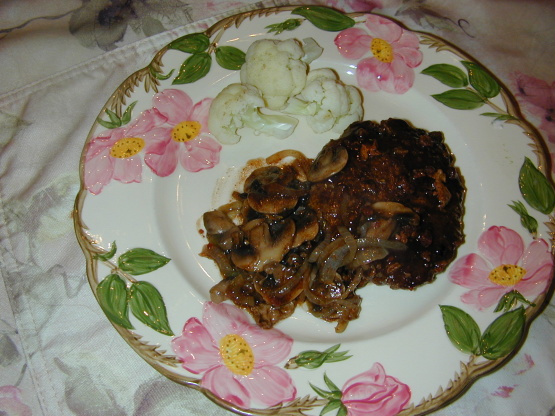 These are very good low carb Salisbury Steaks with a Wine Sauce. The recipe comes from Readers Digest Quick and Easy

Barbara this was delicious. I substituted venison burger and thought I had thyme leaves, but found after it was too late that all I had in the house was ground thyme, so I went with that instead...oops! I used Holland House red cooking wine, which is actually red wine with a little salt and dextrose added. The flavors blended together marvelously. I had my DB and his fiancé and kids for dinner and since this was a spur of the moment invitation, they jumped in and helped prepare the meal. DB over-browned the bugers (they were a little dry), but it was unanimous among everyone that that was his fault and the recipe was definitely worth every bit of five stars!!! We served this with garlic mashed potatoes, yogi's Tasty Buns and brussell sprouts seasoned with Zatarin's and parmesan cheese. As DB and fiancé were leaving, they told me this entire meal was 5 stars all the way! Thank you for sharing such a treat with us!!!
In a large skillet cook bacon over moderatly-high heat;cook until crisp and browned, about 5 minutes.
Transfer bacon to paper towels and set aside; reserve drippings in the skillet.
Core and seed the bell pepper; cut into strips, add mushrooms, onions and bell pepper to the drippings in the skillet; cook stirring frequently, until crisp tender, about 4 minutes.
Meanwhile, shape ground beef into 4 oval steaks about 3/4 inch thick; sprinkle on both sides with salt and pepper.
Transfer vegetables to a warm serving platter, cover and keep warm.
Cook steaks until they are well browned, about 3 minutes on each side for medium.
Place the steaks on top of vegetable mixture, cover, and keep them warm; add wine and thyme to the skillet
Bring mixture to a boil, stirring and scraping bottom of skillet; pour the wine sauce over the steaks; Crumble the bacon over the sauce and Serve.