Salisbury Steak With Mushroom Gravy
KathyP53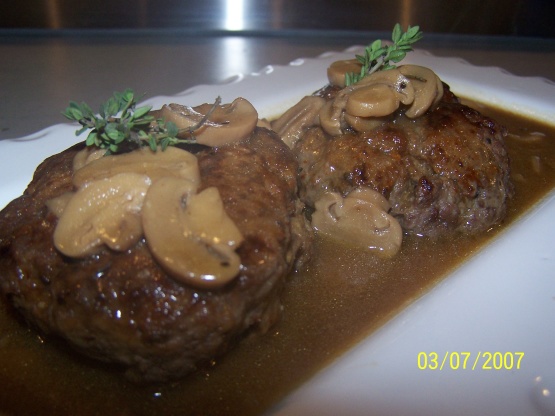 A delicious blast from the past with great gravy. This is from Rachael Ray.

Very tasty. I too made 4 patties. Easy to put together. I grated the onion instead of chopping and that made it even easier.
Combine meat, Worcestershire, onion and steak seasoning.
Form 2 large oval patties, 1" thick.
Preheat large nonstick skillet over medium-high heat.
Add tablespoons of olive oil and the meat patties to a hot pan.
Cook meat 6 minutes on each side until meat is evenly caramelized on the outside and juices run clear.
Remove meat and cover with loose foil to keep warm.
Add 1 tablespoons oil and the butter to the pan, then the mushrooms.
Season with salt and pepper and sauté mushrooms until tender, 3-5 minutes.
Add sprinkle of flour to pan and cook 2 minutes more.
Whisk in beef stock and thicken 1 minute.
To serve, pour gravy over Salisbury Steaks.
Serve with mashed potatoes.