Salisbury Steak With Mushroom and Onion Gravy
Boomette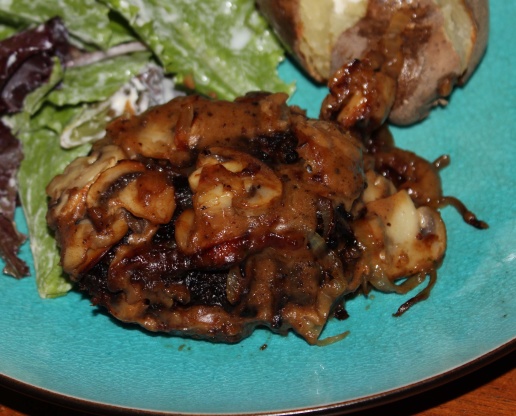 I combined the Salisbury steak from one recipe and the gravy from another and made this hearty, filling, easy meal. Mashed potatoes make a great accompaniment, I suggest making extra gravy for the potatoes.

Absolutely delicious! Followed recipe exactly, but substituted a can of sliced mushrooms I had on hand. Hubby scarfed it down, saying it was the most delicious salisbury steak he had ever eaten. Will definitely be making this dish again! I made the patty mixture 3 hours ahead of time, made into the patties and let sit in fridge to let the flavors blend. This dish is excellent for the meat and potatoes kind of guy. :)
Combine ground beef, chopped onions, cracker crumbs, egg, horseradish, salt and pepper. Shape into patties.
Heat 2 tablespoons butter in skillet.
Cook patties till no longer pink inside - approx 8 minutes each side.
In separate pan, melt 3 tablespoons butter. Sauté onion rings and mushrooms til tender.
Remove patties from pan.
Stir flour into pan, scraping bottom of pan. Add dash of salt and pepper. Cook 2 minutes. Stir in cream to form a thick paste.
Slowly stir in chicken broth - stir till thick.
Add a few dashes of Worcestershire sauce and hot sauce. Stir till mixed well.
Simmer 5 minutes Add mushrooms, onions and patties.
Heat 10 minutes.