Marlitt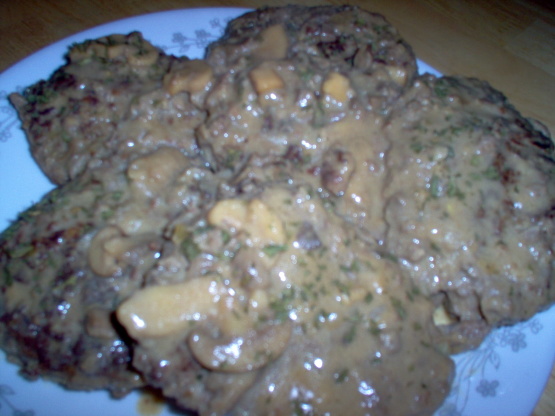 This is a very old recipe. I remember when I was first out on my own about 27 years ago, I made this dish. It is still just as good today. I had lost my original recipe which had come from a newspaper clipping, but just recently found it online at cheftochef.net. They received it from "Reminisce" Magazine posted by Debbie Carlson - Cooking Echo==Cortesy of Dale & Gail Shipp, Columbia MD.

Delicious. I made a couple of changes--used golden mushroom soup, used 1/2 a lb. of sauteed sliced fresh mushrooms instead of the canned, and simmered the patties, mushrooms and sauce over lowest heat for 30 minutes. I had to be careful turning the patties when browning to keep from breaking up, but the finished dish was moist and delicious. Thanks for sharing this great recipe.
In bowl, combine the soup, mustard, Worcestershie Sauce and horseradish.
Blend Well and set Aside.
In another bowl, lightly beat the egg.
Add bread crumbs, onion, salt, pepper and 1/4 cup of the soup mixture.
Add beef and mix well.
Shape into six patties.
In a large skillet, brown the patties in oil and drain.
Combine remaining soup mixture with water and mushrooms.
Pour over patties, cover and cook over low heat for 10-15 minutes or until meat is done.
Remove patties to a serving platter and spoon sauce over meat.