Chipfo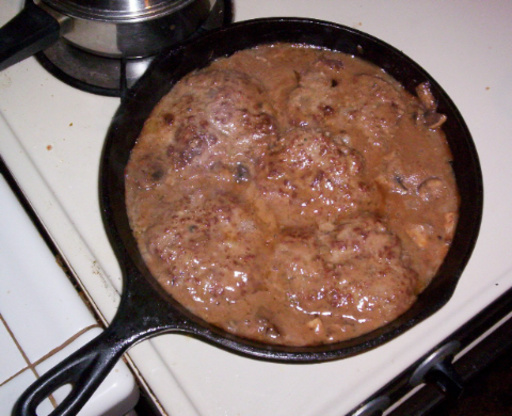 I came up with this recipe while referencing another recipe here on Zaar. I would have simply reviewed the recipe and added to my cookbook but I made such changes that it is not like the original recipe I referenced, so I feel it would not be a fair rating if I did rate it(even a high rating, which it would have been) I am not saying this is better, but different, the recipe I went by is Simple Salisbury Steak . The main reason for the biggest change - the addition of brown gravy is because I like salisbury steaks with mashed potatoes and in order to have enough gravy for 4 or 5 serving of potatoes needs more gravy, plus when I think of salisbury steak I think of brown gravy.

this was wonderfull worked out well for us. Thanks for posting.
1

(10 1/2 ounce) can condensed cream of mushroom soup

1

(7/8 ounce) package brown gravy mix

1

lb ground beef
1⁄2 cup dry breadcrumbs
1⁄4 cup onion (finely diced)

1

egg, beaten

1

teaspoon Worcestershire sauce
salt (to taste)
pepper (to taste)
1 1⁄2 cups sliced mushrooms

1

medium onion (sliced thin)
In large bowl, mix thoroughly 1/2 cup soup, the beef, bread crumbs, onion,worcestershire, salt, pepper to taste and egg.
Shape firmly into 5 patties, about 3/4 inch thick.
In large skillet over medium-high heat, melt margarine and cook 3 or 4 patties until browned on both sides, remove.
Repeat with remaining patties and remove, spoon off fat.
While patties are browning mix brown gravy mix with 1 cup of cold water.
In same skillet, patties removed, add remaining mushroom soup, brown gravy and mushrooms; bring to boil.
Return patties to skillet, reduce heat to low cover; simmer 20 minutes or until patties are thoroughly cooked and no longer pink, turning patties occasionally.
While patties are cooking, saute sliced onion in 1 teaspoon of butter over medium heat stirring often until soft and caramelized.
Serve patties topped with sauteed onions and mushroom sauce spooned over.
I serve this with mashed potatoes, you could use egg noodles instead.