Nif_H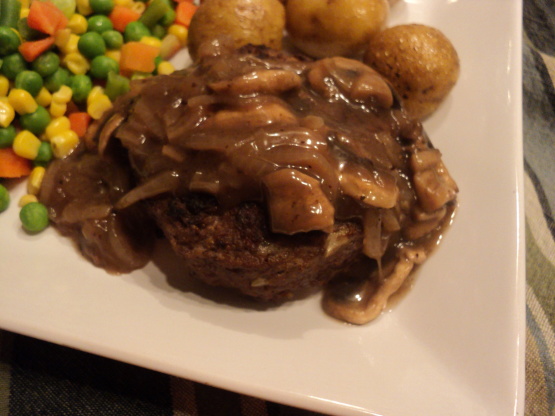 This is a DELICIOUS recipe for the traditional Salisbury Steak with mushroom gravy. YUM!

Since I can't have gluten, I substituted extra onions and 2 minced mushrooms to the meat mixture. I didn't have any red wine, so I had to use grape juice with a little vinegar. Still a very good, easy recipe. Also, added a clove of minced garlic to the meat. Tasty!
Preheat oven to 250 degrees.
Heat EVOO in a skillet.
Combine beef, chopped onion, beaten egg, seasonings, Worcestershire sauce and bread crumbs in a bowl with hands.
Shape into 4 oval patties, about 3/4" thick.
Brown patties in skillet for 5 minutes per side, then remove patties to an oven-safe dish and keep warm in oven.
Add a bit more EVOO to the pan, if necessary.
Add sliced onion and mushrooms to skillet and sauté until mushrooms are golden brown, about 5 minutes, then add salt & pepper.
Add red wine to deglaze skillet and cook out alcohol, about 5 minutes.
Add beef broth and heat to boiling, then reduce heat to low, cover, and simmer for 10 minutes.
Bring onion mixture to boil again and add water/cornstarch mixture. Stir constantly, for 1 minute, and add salt & pepper.
Pour gravy over patties, and serve.