teresas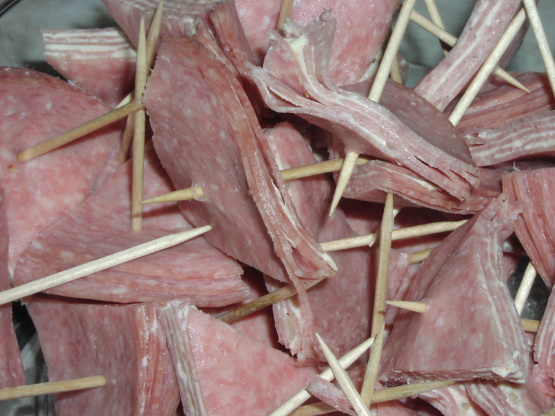 I found these for the Cooking Club here at the home but they were too spicy once I read the recipe. Great for last minute company. These are from the kitchen of Nonnie Nardone, Northpole.com. Did not allow for cooling time as each location is different.

These little guys are great! They were gone in no time at our family Christmas get together. I had visualized them being taller. But could be my fault for not getting thicker slices of salami. Which I plan to do next time. All the ingredients mixed together gives a nice little kick. Thanks DiScharf for posting an easy, tasty appetizer.
Blend all ingredients together with the exception of the salami.
Spread mixture on salami slices and stack five slices high.
Refrigerate stacks until firm.
When ready to serve, cut each stack in 6 wedges and serve on toothpicks with pickled onions.