ImPat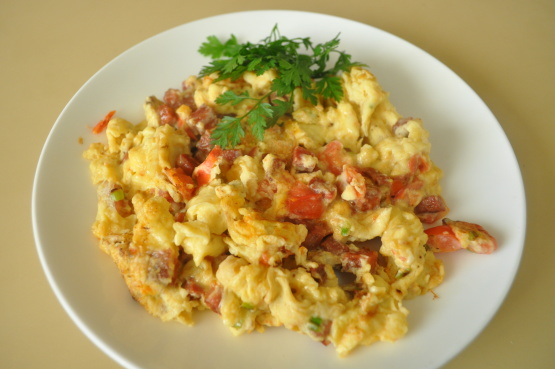 ..........Recipe courtesy Rachael Ray***** 1/4 onion may be substituted for the scallions. ******************* 3 tablespoons chopped sun-dried tomato may be substituted for the tomato ************************************* crumbled cheese your choice of: Boursin garlic and herb cheese, crumbled, alouette garlic and herb cheese (4 rounded spoonfuls), crumbled feta cheese, crumbled herb goat cheese – again, whatever your preference and whichever you have on hand

Top Review by ImPat
Choc-a-block full of flavour which I thoroughly enjoyed. I made a few minor adjustments to suite dietary needs. The home made pepperoni I used was very spicy and a little fatty so I chopped it into small pieces and fried off starting in a cold pan till crispy to render off the fat, drained on paper towel and wiped out pan and then proceeded from the point of adding the scallion and tomatoes and then the egg with a grated vintage cheddar and plenty of pepper (no salt) and served with a sprig of chervil, a scrumptious breakfast thank you Phil Frances, made for All You Can Cook Buffet - Special Event.
Heat a medium nonstick skillet over medium to medium high heat.
Add extra-virgin olive oil and salami. Cook salami until it renders some fat and starts to turn a deep burgundy color, 2 minutes.
Add garlic and stir 30 seconds, then add scallions or onions and cook 1 or 2 more minutes.
Add tomatoes and cook another minute.
Scramble eggs with cheese, a little salt and a generous amount of pepper. Add eggs to pan and scramble it all up together.
Serve scrambles with parsley and/or basil garnish.