Saladi Ya Matunda (African Tropical Fruit Salad)
Nasseh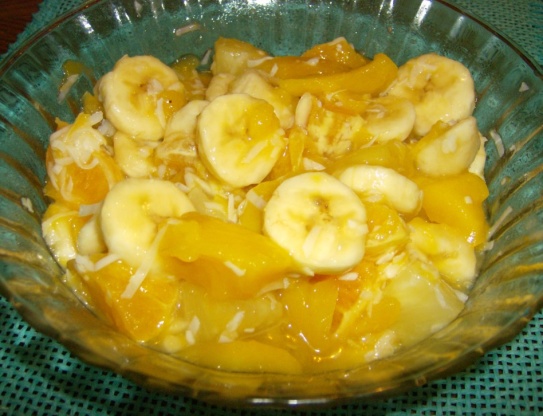 A delicious fruit salad which we enjoyed for supper as well as breakfast. I made some minor changes (based on what was available in the local grocery and my fridge) to the original recipe printed in The Book Club Cookbook discussing Poisonwood Bible by Barbara Kingsolver. In the intro it states that a traditional African Fruit Salad, a variety of tropical fruits are chosen, making this very adaptable to whatever is available in the grocer or in the fridge.

Top Review by Nasseh
I made this recipe with canned pineapple, canned mangoes, fresh bananas & fresh oranges. Instead of making the syrup with water & sugar I used the juice from the mangoes & pineapple boiled with 1/2 cup of sugar. I also substituted almonds for the roasted peanuts. Overall, everyone thought this was a good fruit salad. Thanks Ellie
To make simple syrup: bring water and sugar (1 cup each) to a boil in a saucepan. Reduce heat and simmer for 5 minutes until syrupy, stirring. Refrigerate until ready to use.
In a large glass bowl (or salad bowl), combine fruit, tossing gently.
Stir in lime or lemon juice and enough of the simple syrup to desired sweetness.
Cover salad and let stand at room temperature for 30 minutes, stirring once.
Refrigerate until serving time.
Serve in individual bowls, garnished with coconut and peanuts.