Salad With Fruit and Cheese
2Bleu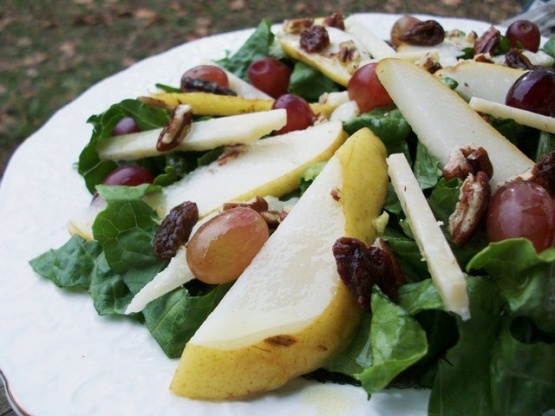 We enjoyed this salad which I adapted from Bon Appetit (November 2008)

We felt the balance of flavors were off a bit in this salad with the combination of
tart cherries and the tart lemon dressing. Lemon was the overpowering flavor unfortunately and we couldn't taste much else. Hazelnuts replaced pine nuts as the latter are hovering around 20-30 dollars a pound here. I would make this again but balance out the flavors-but how I don't know (yet). Reviewed for Veg Tag October.
In a measuring cup or small bowl place cherries and cover with hot water. Let sit for about 15 minutes and drain well.
In a jar or bowl combine dressing ingredients (oil and lemon juice), whisk or shake well and set aside.
In a large salad bowl combine remaining ingredients (grapes - pears), toss well with dressing and then add pine nuts and cheese. Toss again.