Zurie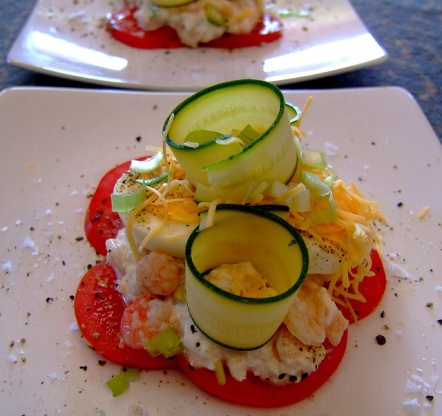 CREATED FOR CATEGORY CRAZE-E CONTEST. A really simple, fresh and healthy starter for your dinner guests, and you probably have all the ingredients at hand! The very simple dressing ingredients are included in the list of ingredients. Cooking time given are for the 2 eggs only.

Had this for dinner tonight and both DH and I really enjoyed it. Nice, fresh and easy to make - what's not to like. Used garden fresh tomatoes, did add 2 tsp of creamy wasabi to the mayonnase and instead of stips of zucchini made them into small strips as that was easier to eat. Other than those minor changes made exactly as posted. Thanks Zurie for a nice change from our regular salad. Made for Hidden Gems 2009
Wash and dry tomatoes, and slice about 1/4 inch thick. Arrange 3 - 4 slices on each of 4 plates, depending on size of tomato rounds.
Mix the yoghurt, mayonnaise and 2 tablespoons of the chopped spring onions in a bowl. Add the shrimps, and fold in until well mixed.
Put about 2 heaped tablespoons of the shrimp mixture on the prepared tomato slices, centred, so the tomatoes still show.
Peel the boiled eggs, and slice carefully (so they don't break) into thickish slices. Discard the white ends. Arrange 2 egg slices on the shrimp mixture on each plate.
Sprinkle the salad with black pepper, crushed garlic (the fine dried crushed garlic is better here than fresh, which might be a little overpowering). Sea salt flakes look pretty on the plate and taste great, but use any salt you have, to taste.
With a potato peeler, peel ribbons from the zucchini. Discard the outer thin bits. Roll up each ribbon -- you need about 12 -- and pinch ends, which usually makes them stay in rounds.
Arrange 3 zucchini circles on each salad.
Divide the grated cheese between the plates.
You have 2 tablespoons chopped spring onions left over. Sprinkle over the salad.
In a bowl, whisk the water, cider vinegar, olive oil, mustard (and a pinch of salt, if you want) until it emulsifies.
Drizzle about a tablespoon of the vinaigrette dressing over each salad.
The salads should each be a neat, not very high, "stack". Ideal before a main dish of meat. Cover and cool, but do not chill too deeply.