Salad Olivier - Russian Potato Salad
Olga P.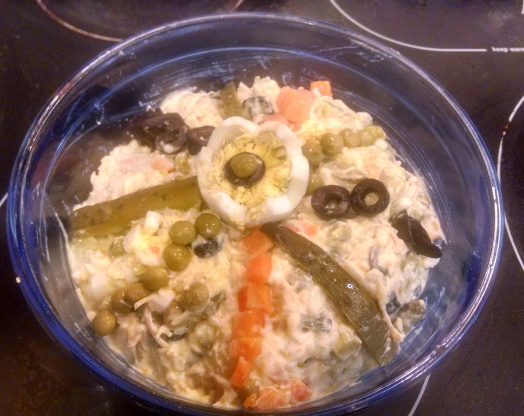 One of the most traditional Russian salads, it was originally created by the French Chef, M. Olivier, but claimed by the Russians as one of their dishes. It is certainly become a big part of the Russian life and everyone knows how delicious this salad can be. Ironically, there are many different recipes. You can choose to add meat to it or serve it meatless. This recipe uses boiled chicken but some people use bologna as well. This salad is delicious when served fresh but even better when it has been refrigerated for a few hours or even overnight.

Ok, I did this basically as shown except replaced a little cooked bacon for the chicken and probably added more mayo than suggested. Family all say it's excellent, best ever, when are you making it again? - you get the drift.
Cut up the chicken and set aside.
Boil potatoes and carrots until they are soft in the middle and let cool to room temperature. Dice potatoes and carrots and combine in bowl. Add diced eggs, pickles, green onions, dill and sweet peas. Add the chicken. Mix all ingredients well while adding salt and pepper.
Add Mayonnaise and mix all ingredients well again. Sprinkle with some dill and refrigerate for 2-3 hours).