Salad of Kumquats, Dates and Shaved Parmesan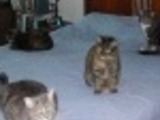 Kumquat and Cranberry are the names of my two cats. I have a cranberry recipe posted and I needed a kumquat recipe! Found a great one. Kumquats are like little oranges, except the skin is sweeter than the flesh. If you can find kumquats where you are then you'll definitely want to try this. Marvelous combination of sour, sweet, salty and a touch bitter from the greens. From a recent Sunday's New York Times magazine.
Directions
Slice kumquats into thin rounds, discarding seeds (do not peel).
Combine arugula, parsley, dates, kumquats and parmesan in a large bowl.
Whisk together lemon juice and olive oil. Season with salt and pepper. Pour over salad and toss.
Most Helpful
I receive a by-weekly box of organic veggies and fruits and that's how I get them into our lives, so when I got this kumquats today I came looking for a way to use them and I found this very nice salad. Thank you!