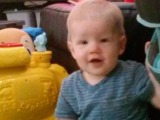 I made this dressing just recently for one of my salads. Didn't have any dressing so I just started throwing things together.
1 cup balsamic vinegar
2 cups salad oil
1⁄2 cup sugar
4 tablespoons Dijon mustard
salt and pepper, to taste
Directions
Mix all ingredients together.
Refrigerate until ready to use.
Reviews
Most Helpful
A nice basic dressing! I was able to cut down to a single serving that worked well for a quick lunch, made as written. Thanks for the post.