Salad Asian Salad, Crunchy Salad, Tsunami Salad, It's All Good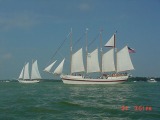 This is a different twist from the every day traditional salads. Give this a try, you will want to make it again and again. It will go with just about any meal! This recipe came from a friend in Monclova, Ohio. She made it for her kids and they asked for it all the time.
Directions
Dressing: combine ingredients and shake well.
Shred 1 head of Napa cabbage and add 4 green onions, sliced thin. Set aside.
Melt 1 stick of butter in a frying pan on medium heat and break up the 2 packages of ramen noodles, (DO NOT USE THE FLAVOR PACKETS!) add to butter and cook until golden brown.
Add 1/2 cup slivered almonds and 1/2 cup sesame seeds.
Drain on paper towels. (This can be done ahead and placed in a plastic bag or container,when cooled, until ready for use).
Just before serving, add noodle mixture and dressing to cabbage and toss together.