Hey Jude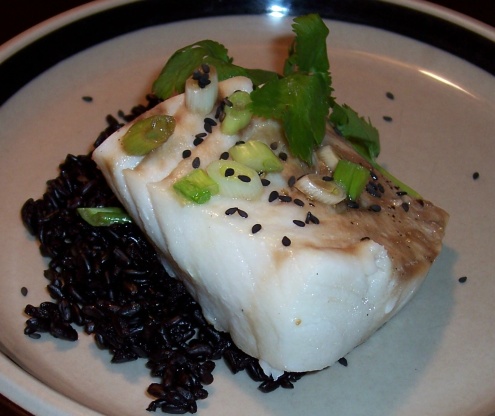 Who knew watching my calories could be so delicious? Not to mention quick and easy! This is a nice company dish that can also be made after a long day at the office

This was delicious, I left out the clam juice as I didn't have any and used Japanese Sake and Soy sauce. It was great and we will be having it again!
Heat the first 4 ingredients to boil, then lower to simmer in a pot big enough to hold the steamer.
Add the fish on a steamer rack, top with salt, pepper, scallions, soy sauce and sesame oil.
Cover and steam for 5 minutes until opaque; remove rack add cilantro to cooking liquid.
Serve rice on 4 plates, top with fish, top with cooking juices, sprinkle with sesame seeds.