Jubes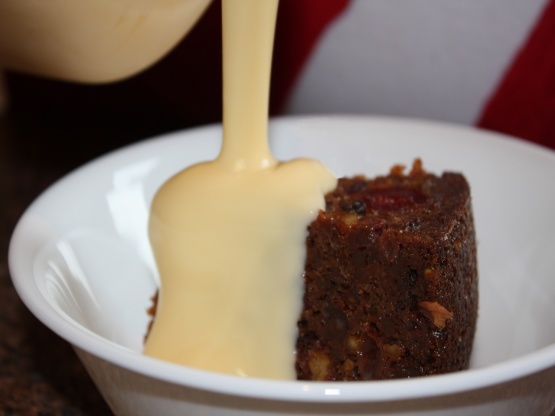 I've made this pudding at Christmas for the last few years. The recipe originally came from a magazine but I no longer remember which one. Makes a lovely light pudding with the addition of the sago. There's no alcohol in this pud. Using Australian measuring cups-1 cup equals 250 mls. Don't be tempted to over measure your ingredients as your pudding basin will be too full. I use a whole loaf of gluten-free bread to make enough breadcrumbs called for in this recipe. Please note that the cooking time does not reflect the overnight soaking for the sago. This is a great pudding made with regular bread or with gluten-free bread. It can be made with lactose free milk and vegan margarine to be lactose-free
Bring the milk to the boiling point. Remove from heat and pour it over the sago in a bowl. Cover the bowl and refrigerate overnight to soak.
The next day, add the bicarb soda and the salt.
Stir through all of the remaining ingredients and mix well.
Grease an 8 cup pudding basin well. Place a circle of buttered baking paper in the base of the basin.
Spoon in all of the pudding mixture into the basin.
If using an uncovered ceramic pudding basin -and two sheets of aluminum foil. Tie with string to seal .
If using a lidded metal pudding basin- cover with a circle of buttered baking paper. Cover with the lid.
Pour enough water into a large saucepan or stockpot to come halfway up the sides of the pudding basin. Bring the water to the boil and then carefully lower the pudding into the water. Cover the saucepan and simmer for 4 hours. Check the pudding every 30 minutes and add more water if necessary.
On the day of serving either cut into serving portions and heat in the microwave or leave in the pudding basin and resteam for another 2 hours to heat through.