Sage Sausage, Apple and Craisin Dressing
Elmotoo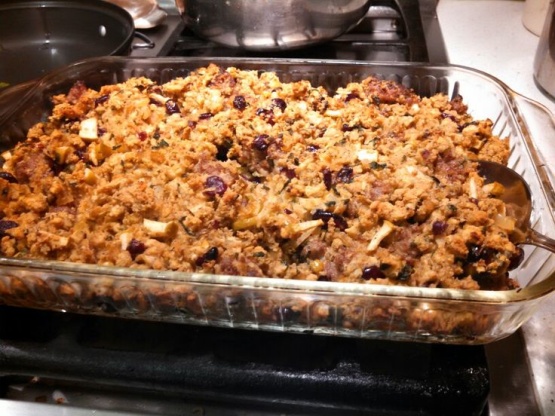 This is a recipe I use every year for our Thanksgiving and Christmas dinners. I usually double this recipe for the amount of people we have over. It is wonderful as left-overs, also. The nice thing about this is that it can be prepped the day before, so on the day your cooking, you just pop it into the oven (less dirty dishes and more free time that morning). I hope you enjoy this recipe as much as our family does.

I keep the dressing outside the turkey, and so compensate with extra broth. Make sure to spray your pan and keep it covered with foil! I?ve found that stirring it after it?s baked for 30 minutes or so, helps it bake more evenly. The only other changes I make are to throw in a little chardonnay for flavor and to add an egg for a little extra hold. I've also found that sage pork sausage is much more flavorful (make sure to drain it after cooking however). I have a habit of not measuring, so more cranberries and herbs always find their way in. And I cannot emphasize the difference FRESH herbs make. Experiment with different kinds of bread as well! Sourdough and potato bread have yielded delicious results. I've had a few flavor variations, but every result was just as tasty as the last. This is one of my favorite recipe from this site at this time.....Thank you Rosie!!! For getting me Inspired to play with my food !! Happy Cooking to y'all!......PRMR 2013....Grpa I can do the happy food dance Now!
Pre-heat oven to 325*F. Butter a 3 quart casserole dish. Place stuffing cubes in a large bowl.
Melt 2 tablespoons of butter in a large, deep skillet over medium-high heat and add sage sausage (breaking up with a wooden spoon). Cook until almost all the pink is gone, but not so much that it gets dry (about 5 minutes). Pour cooked sausage AND all the drippings over the top of the stuffing cubes (Do Not mix in yet).
Melt the remaining 4 tablespoons of butter in the same pan and add onion, apple, celery and the salt. Cook (stirring often) until veggies start to soften (about 5 minutes). Add the chicken broth and parsley to the pan and bring to just boiling.
Once boiling, pour broth and veggie mixture over the stuffing cubes and sausage.Gently toss everything until evenly moistened (if it seems that it needs more moisture, add 1 tablespoon of water). Now add in Craisins and the beaten egg. Mix well.
"Loosely" pack the dressing into the prepared casserole dish. (At this point you can "tightly" cover the dish with plastic wrap and refrigerate it over night to bake the next day, just remove the wrap, gently stir in about 1 tablespoon of water, "lightly "pack again and let it rest on the counter about a 1/2 hour before placing in the oven).
Bake the dressing, UNCOVERED, until the top starts forming a crust (about 40 minutes). While it's baking, melt an additional 2 tablespoons of butter (unless you prefer to use 2 tablespoons turkey drippings). Once the 40 minutes are up, drizzle the butter (or turkey drippings) over the top of the dressing and return to the oven for an additional 20 minutes. Serve warm.
(If your turkey is already roasting at the same temperature, you could add the dressing during the last hour. If your oven temp is different, you may need to adjust baking time). Enjoy!