ChefLee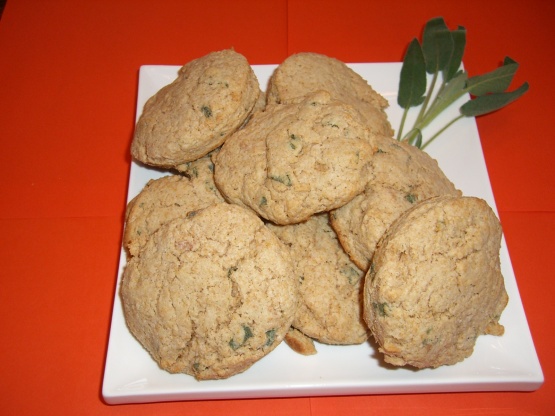 A savory alternative to just bread and butter with dinner.

Excelent! These would have earned a five, but were a little dry. I think the reason was that I didn't add the full amount of buttermilk,because the recipe says to mix until JUST moisened. Also my oven cooks a little hot. The flavors were excelent though, and I will be making these again!
Preheat oven to 450.
Sift together the flour, baking powder, baking soda and salt. Cut the cold butter into the flour until it resembles coarse meal. Stir in the sage. Stir in the buttermilk until the dry ingredients are just moistened.
Lightly flour your hands and work the dough into a square about 7" x 7", 1/2" thick, on a floured surface. Cut the dough into 9 squares, and place on a baking sheet.
Brush the tops with the melted butter and bake until golden brown, 12-14 minute.
Serve warm.