Sage and Onion Wheat Bread (bread Machine)
Serah B.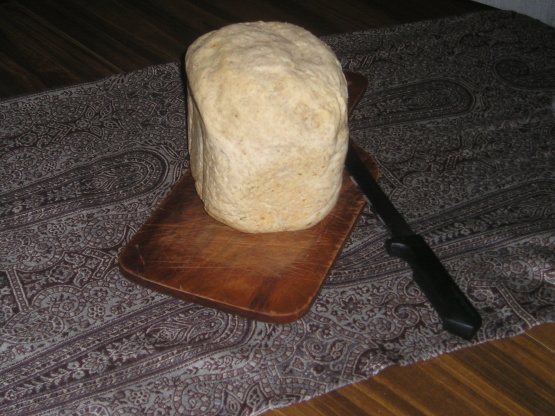 The aroma is out of this world! This is a great bread for making meat sandwiches. Recipe was found on another web site.

Definitely aromatic and the sage flavor was lovely and not overdone. The onion flavor was quite subtle and I would like a bit more of that. Maybe carmelizing the onions, as someone suggested, would bring out the flavor a bit more. Texture was soft and tender. I used this as a side for soup. Thanks for the recipe.
Add ingredients to machine as per manufacturers recommendations.
About 10 minutes after the machine has begun to knead the dough, check consistency.
Dough should be starting to form a smooth round ball.
When touched the dough should be slightly tacky to the touch; however no dough should remain on the finger.
If dough is to dry, add 1 Tbsp of water and allow machine to knead a few minutes before checking.
If dough is to wet, add 1 Tbsp of flour and again allow machine to knead a few minutes before checking.
Select the whole wheat cycle and allow the machine to do the rest.
The 3 hour cook time is approximate, actual cook time will depend upon bread machine being used.