COOKGIRl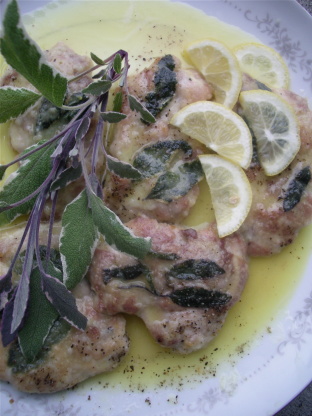 This came out of our Sunday paper's Food section. It seemed ideal to me since I could adjust it to be a low sodium entree. I doubled the recipe for the 3 of us and made 4 halves.(extra sauce would be good next time too-it went fast!)

Super delicious!! It was fast and easy. I would recommend having it with a creamy rice dish or egg noddles, like Cookgirl suggested. Also, I only used about 1/2 the amount of flour, and it still turned out great!
Place chicken breasts between wax paper or plastic wrap and pound to 1/2 inch thickness.
Press 2 or 3 sage leaves on the surface of each breast.
Combine flour,salt and pepper to taste on a plate, and gently dust chicken with the seasoned flour.
Heat olive oil in a medium skillet and add chicken, sage-side down.
Brown for 3 to 5 minutes, then turn over chicken and brown 3 minutes longer.
Set chicken aside and pour off any fat.
Add lemon juice and broth to the skillet and scrape up any browned bits with a wooden spoon.
Return chicken to skillet and simmer for 5 minutes or until heated through.
Place chicken on 2 serving plates then add butter to skillet and swirl to melt.
Spoon sauce over chicken.