Sage and Garlic Crusted Pork Tenderloin
PanNan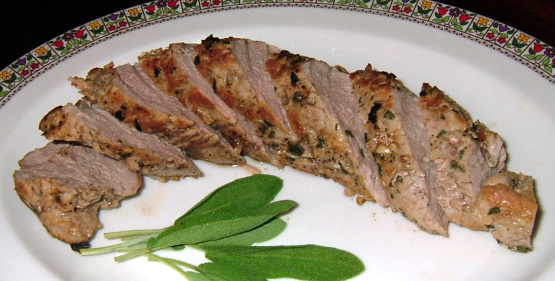 From the Jan 07 issue of Martha Stewart Living.

I am only giving this recipe a 3-star rating because the amount of the sage and garlic coating needs to be doubled at least. I had a pork tenderloin that was a little over 1.5 lbs. and I only had enough of the coating to cover one side. I also think there needs to be a lot more sage, so next time, I'll cut the garlic down to a single large clove and up the sage to a quarter cup or so. Even so, it was flavorful and juicy and made a great quick weeknight dinner that tasted pretty good. When I make this again with my variations, I will review again.
Preheat oven to 400.
Stir together garlic, sage, salt, pepper and olive oil in a small bowl.
Rub mixture all over pork.
Heat a heavy pan over medium-high heat. Add the vegetable oil. Add pork and brown on all sides, about 4 minutes.
Transfer to oven. Roast pork, turning occasionally, until a thermometer registers 145 to 150, about 20 minutes.
Transfer to a cutting board. Tent with foil and let rest 10 minutes before slicing.