Saga Blue and Apricot Pizzettes
Ms B.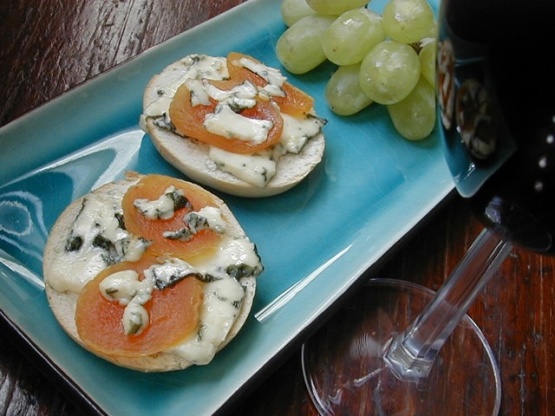 Sage Blue was recomended for this recipe because of its very smooth texture. However, if unavailable, Maytag Blue or another creamy blue cheese can be substituted. Also, the mini bagels may be replaced with your favorite yeast pizza dough. Just make small (2-inch) diameter crusts for the appetizers.
8

ounces saga blue cheese, well chilled

30

dried apricot halves (with soft texture)

1

sprig mint, for garnish
Preheat oven to 450F.
Slice bagels in half and arrange on a cookie sheet or baking stone.
Cut 1/8-inch-thick slices from the cheese and trim to fit the tops of the pizzas.
Top each pizza with 2 slices.
Flatten the apricots by pressing with your fingers; then place one apricot, hollow side up, over the cheese on the pizza.
Place another slice of Saga blue over each apricot.
Bake until the cheese has melted, about 5 to 6 minutes.
Remove from oven and garnish with mint sprigs.