Saffron White Wine Pasta Dough
Rita1652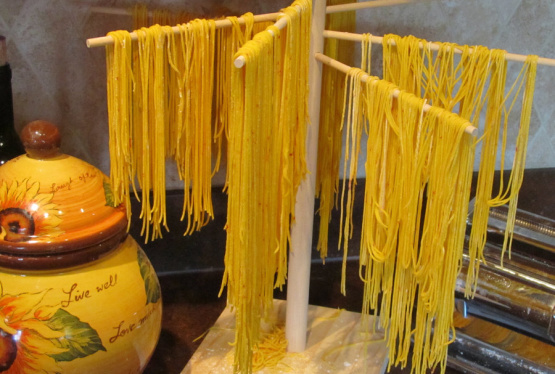 Saffron gives the pasta a Golden color and exotic fragrance. Matching it nice with seafood.Adapted from making artisan pasta by Aliza Green. A very good book! I made Capellini and it came out perfect.

Looks to be a perfect pairing with a Dungie Crab Ravioli filling for the holidays. Perhaps a simple white wine scampi sauce?
1⁄2 teaspoon saffron thread
3⁄4 cup white wine

4

egg yolks
3⁄4 lb durum flour, if the flour is large you can run it in the food processor till fine (semolina pasta flour that had been ground very fine)
1⁄4 teaspoon salt
Crush saffron with dry hands. Soak saffron in the wine for 10 minutes.
Place flour on large hard surface that has been floured. Mix in salt.
Mix the egg then add the saffron wine stirring in to combine.
.Make a well in center of the flour. Add a little of the egg mixture to the center using a fork to whisk the flour into egg mixture. Keep adding till all is absorbed.
Knead with hands until fully incorporated. Dough will be sticky, so use some flour to be able to form into a ball. Flatten out a bit, cover with a damp towel to keep from drying. Or place a bowl over it.
Rest for 30 minutes. Do NOT skip this step.
Separate the dough into two pieces.
Flour your work surface and start to roll out the dough, rolling from the middle, flipping it occasionally, and flouring it as necessary to keep it from sticking. To keep the sheet from breaking, once it has reached a certain size, roll it up around the rolling pin and then invert the rolling pin; you can, as you are unrolling the sheet, gently stretch it by holding the unrolled part firm and pulling gently away with the rolling pin. Keep on flipping and rolling till you have a sheet that's almost transparent -- as thin as a dime, or thinner, (the pasta will almost double in thickness while cooking).
Now you can either use it to make crab filled ravioli or tortellini, for lasagna, or cut it into strips. Roll out the second piece and cut it as you did the first.
Or.
Use a hand operated pasta machine that clamps to your work surface, then you crank it through the rollers until it reaches the proper thinness that doesn't break up. Having a smooth, intact pasta. Cut pasta in ribbons or make whatever shape you prefer.
Or if lucky enough to have a motorized machine pour in the egg mixture and flour and let the machine do the rest.
Fresh pasta cooks in 3-5 minutes. be sure not to overcook.